Sunday, February 20th, 2022, 2pm– Smock Alley, Main Space at Scene and Heard
The Devil Himself – a new by Paul Nugent
inspired by the book by Andrew Porwancher
Cast
Ciaran McGlynn, Michael Mullen, Anna Nugent, Mo O'Connell, Eoin O'Sullivan, David Ryan, Noni Stapleton and Kathleen Warner Yeates
Dramaturgy by Krystal Sweedman
Stage Manager Jessie Doyle
Directed by Paul Nugent
A work-in-progress staged reading of this new epic play inspired by a true story about a young woman in the Gilded Age who is scandalously slandered, leading to duels, court cases and a media frenzy.
August 7th-15th 2021 – At The Civic in partnership with Gansee Films
From Stage To Film
Cast
Megan Day, Darina Gallagher, Mia Goodman, Paul Nugent, Maureen O'Connell, David Ryan, Mark Tankersley and Kathleen Warner Yeates
Filmed by Tim Gannon and Graham Seely of Gansee Films
Lighting Design by Cathy O'Carroll
Set Design by Jenny Owens
Sound Design by Max Bley & Leon Henry
Costume Design by Tara McKeever
Photography by Martin Nagle
Production Coordinator Yvonne Ussher
Stage Management Team Shannon Cowan, Jessie Doyle, Tara Perry
Directed by Anna Nugent
Supported by The Arts Council.
An R&D workshop exploring the best ways to capture a play on screen, based around a filming of AboutFACE's production of The Gods of the Ozarks by Matthew Cole Kelly. How does a story on stage translate on screen? What can theatre learn from the skill set of cinema, and vice versa? Are there special rules for this hybrid form? And how can we create an experience for an audience on a 2D screen, that matches the 3D of theatre?

March 19th 2021 – Online in partnership with The James Joyce Centre
United States v. One Book Called Ulysses a new play by Colin Murphy
Cast
Alan Buckley, Charlie Kranz, Anna Nugent, Maureen O'Connell, Eoin O'Sullivan, Mark Tankersley, Tana Walsh and Kathleen Warner Yeates
Sound Design by Eoin O'Sullivan
Directed by Paul Nugent
A live online rehearsed reading of United States v. One Book Called Ulysses, Colin Murphy's new play about the greatest literary trial of the twentieth century! Pitting the publishers Random House against the New York Society for the Suppression of Vice, which viewed James Joyce's Ulysses as scandalous and obscene, this funny and dynamic new play, based on documentary materials from RTE journalist Declan Dunne, retells the story of the historic Woolsey Judgement of 1933 …
"Brilliantly staged … by the end had the audience heavily invested in the verdict of the trial … Overall, the show masterfully adapted one of the most dramatic legal trials of the 20th century to the virtual stage. The actors made clever use of costume changes and camera capabilities to present the illusion of reality over Zoom, whilst the plot, despite originating from a lawsuit, was undeniably exciting."

- University Times
April 10th 2020 – Online, developed at The Civic theatre
The Devil Himself a new play by Paul Nugent
adapted from the book by Andrew Porwancher
Cast
Ciaran McGlynn, Michael Mullen, Anna Nugent, Maureen O'Connell, Eoin O'Sullivan, David Ryan, Tana Walsh and Kathleen Warner Yeates
Dramaturgy by Krystal Sweedman
Directed by Paul Nugent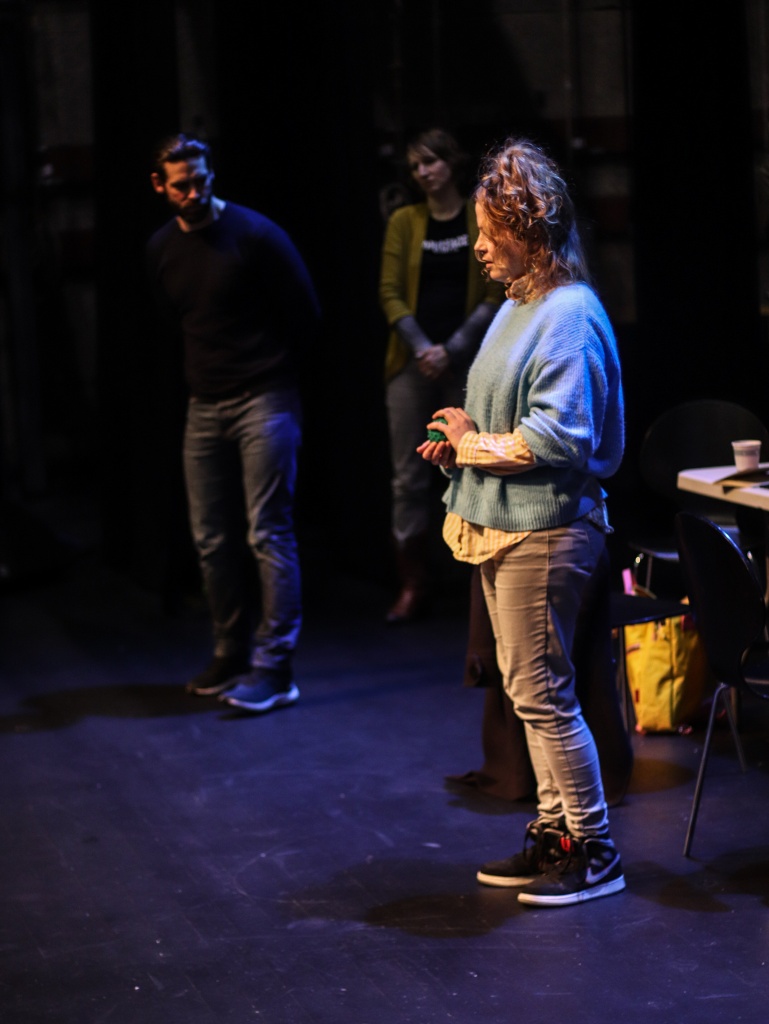 An online work-in-progress presentation following a week-long workshop of a brand new adaptation in development. It tells the sensational true story of Lizzie Nutt, fiancee to debonair playboy Nicholas Dukes and daughter to fiery war hero Captain Adam Nutt, whose reputation is shattered when she is accused of being a seductress who "would disarm the devil himself …"
October 20th 2017 – at the Abbey Theatre's rehearsal space
Brutal Selfish Rattlesnake a new play by Aaron Weissman
Cast
Shane Connolly, Maria Guiver, Barry Kelleghan, Laurence Lowry, Ciaran McGlynn, Leah Minto, Paul Nugent, Laoisa Sexton and Mark Tankersley
Musicians: Max Bley, Karen Buckley, Derek Copley, Evin O'Brien
Directed by Anna Nugent
A work-in-progress presentation following a week-long workshop with actors and musicians of this new play, originally developed at our 2013 NEWvember Festival. It examines the impact of the discovery of silver in frontier town New Mexico in the 1880s, where Tills Jasper has just murdered town dead-beat George Grillit with the business end of a pick axe – now George's ghost is stalking his murderer with a doomsday guitar …
WINTER PUB READING SERIES 2017
To mark our return to producing full-time in Ireland, AboutFACE was delighted to present rehearsed readings of three of our favourite plays from our NEWvember Festivals in New York 2011-2015, in a warm and welcoming pub setting.
The plays were:
January 19th 2017
How The Dog Runs by Dan O'Neil
A family drama of engagements, death and fireworks on a tumultuous 4th of July at a lakeside cabin in Wisconsin.
With
Muireann D'Arcy, David Fennelly, Suzanna Geraghty, Charlie Kranz, Nicola Murphy and Mark Schrier

February 16th 2017
LOVE/SICK by John Cariani
A bittersweet and magical romantic comedy captures couples finding, losing and risking love, over one Friday evening in suburban America.
With
John Hogan, Charlie Kranz, Laurence Lowry, Aoibheann McCaul, Marianne McCullen, Tara McKeever, Nicola Murphy, Anna Nugent and Paul Nugent

March 23rd 2017
Keep Calm and Carry On by Melisa Annis
An intriguing and powerful drama about a middle-aged Welsh couple in mourning and a young visitor coming with a mysterious delivery.
With
Maria Guiver, Lawrence Lowry and Noni Stapleton.

Pub Reading Image designs: Michael Fitzpatrick of Twisted Inc.
---